1. What to you is the most important thing about tea?
What a big question! I think I could dedicate quite a few years of my life attempting to determine what the most important thing about tea is and probably find myself no closer to a satisfying answer. I can say that for me the process of making tea blends is one built on my ongoing relationship with the ever-greening world of plants. For me, the process of healing with our green allies is inherently joyful and mysterious. I guess that might be one of the most important things about tea – fully engaging in the mystery of what makes tea so wonderful. Tea is an incredibly accessible and lovely way to slow-down, enjoy the company of loved ones, maintain health and, for the Apothecary, taking part in the re-enchantment of the world we live in.
2. Do you have a fond memory of drinking tea?
When I was in Scotland, I found myself in a church a few days before Easter because I heard that they had set up a labyrinth. Not one to miss an opportunity to walk a labyrinth, I went to the church on a bright mid-morning looking forward to a bit of a meditative reprieve from busy studies and travels. While the labyrinth was lovely, it was the tea and biscuits offered afterwards that ended up being the real highlight for me. Sitting down at a round table with a collection of older Aunties with kerchief-covered hair, pleated plaid skirts and very practical footwear, I found myself in the midst of a well-worn ritual of town gossip, hot tea and plenty of milk and sugar. Once they realized that I was an American who not only drank tea but whose family had only just emigrated to the U.S. from the U.K. a generation before, there was a great attempt to "catch-me-up" in what I might have missed since "being gone." But mostly it was cups of tea, clever jokes and the easy conversation that happens in a culture that has preserved its ability to socialize with a daily, almost religious adherence to tea and its time that make this particular tea-drinking memory so fond.
3. What is your favorite kind of tea?
While I couldn't pick just one favorite tea, I can talk about some of my daily cups. Witch's Delight is my cup of tea for the fall harvest time – it is a tea made from apples from local orchards and is a great blend of sweet and spice for both morning and night. It is also filled with herbs such as Elder and Hawthorn that are excellent for protection from colds and the 'flu. Witch's Delight is what I bring to community rituals and potlucks as my offering of harvest thanksgiving as the wheel turns to the darkening part of the year.
Lately, I've also been enjoying a cup of Lovely tea mixed with just a touch of honey and some home-made almond milk. For me, tea is not just about how it tastes but what it looks like as a blend, when it is brewed, as well as its scent. Lovely is a beautiful red tea with a scent like the sunset. I originally created Lovely as a birthday gift for a close friend of mine and I think for that reason, too, I enjoy brewing this tea because I think of her when I do!
4. What time of day is your best peaceful tea moment?
Any time I have a cup of tea in my hand is the best peaceful tea moment! That is very much the truth! I gain a different sort of pleasure and sense of satisfaction from enjoying tea at different times of the day (and month and year, for that matter). I enjoy making tea in the morning for my love to enjoy before she is off to work and even better when we have a morning together to laze about with a full pot of chai. When we were living in Maine, I had a deep adoration for my kettle which would transform cold water to hot, warming me up from the inside out after a day in the snow. Sharing a big cauldron batch of sacred tea after ritual is another special tea moment with my community when I feel connected to an ancestral longing for sharing health-full liquids with friends and family. I am also known to make multiple cups of tea and have them scattered around the house in various stages of fullness, so that as I go about my working day I always have a cuppa in my line of sight!
Drinking tea, suffice to say, is a full-time profession around the Apothecary.
5. What kinds of teas do you offer at the shop?
We offer a full array of organic, handmade and completely enchanted teas in the Apothecary ranging from daily herbal brews to special blends for pregnancy as well as teas for love and romance. Some of our most popular teas at the moment are our Hogwarts House Blend Teas inspired by our love for the magickal world of witchcraft and wizardry! Each Hogwarts House Blend Teas were created with special attention to the attributes and characteristics of each House – for example, our Gryffindor House Tea Blend filled with herbs traditionally employed for courage and our Ravenclaw House Tea Blend is a combination of herbs to help promote mental clarity and studiousness.
6. What inspired you to sell teas on Etsy?
Our online Apothecary is just the start of a much larger vision to eventually open up a sliding-scale health collective full of holistic practitioners including a midwife, massage therapists, acupuncturist and more. Etsy has been a wonderful first step for our business vision and we've had the privilege of meeting some wonderful folks all around the world who have a common passion for herbal medicine, great tea and taking time to enjoy it all! Herbal medicine is an accessible, culture-rich and sustainable practice of healing and we see the Apothecary as a small part of the larger social justice movement of health-care access for all. So while the Apothecary as a business mainly resides online at the moment, we are active members of our far-flung community, contributing our part to a more compassionate and sustainable future through herbal medicine.
Many thanks to Worts + Cunning Apothecary for agreeing to be interviewed for The Witches Tea Party!
Now for an amazing giveaway!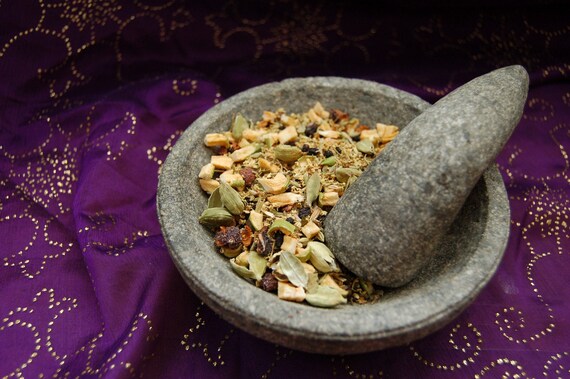 One lucky winner will receive:
Witch's Delight Tea Blend!