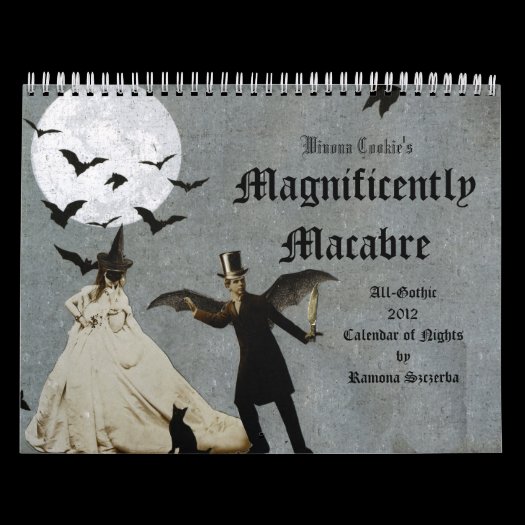 2012_magnificently_macabre_gothic_calendar
Winona Cookie's 2012 Magnificently Macabre Gothic
Have you ever wished it could be Halloween all year long? If so, this is the calendar for you! No smiling puppies, no fuzzy kittens, just 12 months of strange, dark and unusual - what could be better? Not only is each month accompanied by a Winona Cookie collage (some never before published or offered for sale), but many are accompanied by charming and twisted little tales as well! Includes Lysandra Porphyria, Undead Coed (Jan.), Voodoo (Feb.), Evil Sofa (March), Handsome Devil (April), Moribund Manor (May), Eugenia Planchette - A Horrifying Tale (June), Balloon Boy (July), Coffin Cruisers (August), Coraline Chiroptera (September), Seance (October), Thrilled (November) and La Famille Chapeau (December). This is just the calendar you need to fly your Goth flag all year long, so get yours today!
Now for some awesome muffins!
Low Fat Zucchini* Muffins
1 1/2 cups shredded zucchini (about 2 medium)
1 c. white flour
1/2 c. whole wheat flour
1/2 cup sugar
1/3 cup brown sugar, unpacked
1/2 cup liquid egg substitute (or 2 eggs)
1/2 cup unsweetened applesauce or unsweetened pumpkin
3 Tbsp. Brummel and Brown spread, melted or butter
3 Tbsp. minced pecans, divided (I used shelled pistachios – recommend unsalted), plus some extra
1 1/2 tsp. baking powder
1 tsp. Cinnamon*
1 tsp. vanilla extract
1/2 tsp. Nutmeg*
1/2 tsp. Salt
1/4 c. raw or turbinado sugar
Preheat oven to 350 degrees.
In a medium bowl combine flour, sugar, brown sugar, baking powder, cinnamon, nutmeg and salt.
In separate bowl mix zucchini, egg substitute, applesauce butter and vanilla. Slowly add to dry ingredients. Blend thoroughly. Mix half the pecans into the batter.
Line muffin cups with liners or spray with non-stick spray. Spoon batter evenly into 12 cups. Top with remaining pecans and sprinkle with turbinado sugar for crunch and sparkle.
Bake for 25-30 minutes or until toothpick inserted into the center comes out clean. Let cool.
*if using pumpkin, call them "Autumn Harvest Muffins". They will taste better
J
.
**can substitute 1 1/2 t. pumpkin pie spice for both of these
Don't miss the Winona Cookie Giveaway
in the 10 Days of Halloween event!