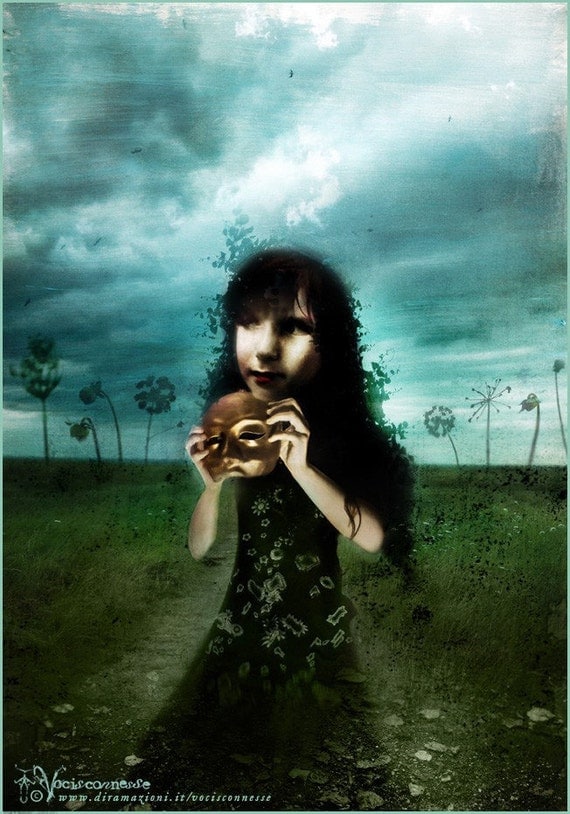 You do a lot of art based on animals, mythology and the grotesque. What inspires you?
MANY THINGS! I'M INSPIRED BY NATURE, I LIKE ANIMALS AND THEIR EXPRESSIVE FACES, AND ALSO LEGENDARY ANIMALS OR OTHER CREATURES WHOSE IMAGERY WE CAN FIND IN DIFFERENT CULTURES, PLACES AND HISTORICAL PERIODS, THROUGH FOLKLORE, MYTHOLOGY, AND ART, "PAGAN" IMAGERY, WOODLAND CREATURES BOTH ANIMALS AND FANTASY FOLK CREATURES, AS DRYADS FOR EXAMPLE, SINCE I LOVE TREES. I LOVE ANCIENT MEDIEVAL CARVINGS AND ALL ARCHITECTURAL ELEMENTS REPRESENTING GROTESQUE CREATURES AND ALL KIND OF FIGURES ALSO REMINDING TO SYMBOLISM, ALCHEMY, MAGIC AND ANCIENT HISTORY. MY FIANCE AND I LIKE TO TAKE PICTURES FROM THEM, FROM BULDINGS, CATHEDRALS, AND MORE. I LIKE ALL ANCIENT ART AND ARTIFACTS, PREHISTORIC ART, ARCHAEOLOGICAL FINDS, AND ALSO HISTORYCAL ANTIQUE JEWELRY, THAT I CAN SEE VISITING MUSEUMS AND FIND IN BOOKS. I LIKE TO GO TO FLEA MARKETS TOO, AND FIND ANCIENT CURIOSITIES. I'M VERY INSPIRED BY DREAMS, THAT I REMEMBER VERY MUCH SINCE WHEN I WAS A CHILD, AND ALL THE THINGS WHICH REMIND TO MAGIC AND IMAGINATION. FOLK TALES, DARK STORIES AND LEGENDS ABOUT WITCHES. AND ALSO BY MY FAVOURITE ARTISTS (SE BELOW SOME OF THEM), FROM SYMBOLISM, EXPRESSIONISM, PRERAPHAELITE AND CONTEMPORARY ART/ ILLUSTRATION.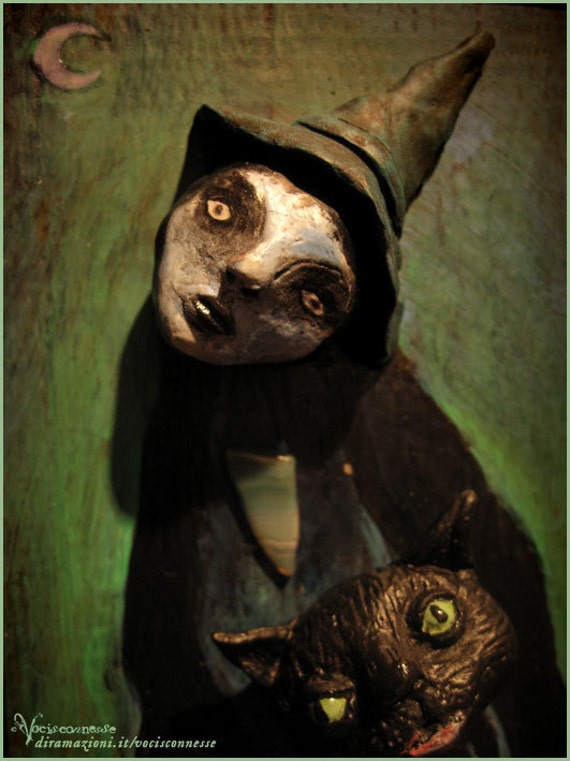 Your witches are both lovely and frightening. What to you, is a witch?
I MOSTLY IMAGINE THE WITCH AS THE WISE WOMAN… BUT I THINK THE DIFFERENT REPRESENTATIONS OVER THE HISTORY ARE THE EXASPERATION OF DIFFERENT ASPECTS, EMPHASIZING THE NICE ASPECT OR THE FRIGHTENING ONE, AND ALSO DEPENDING ON THE DOMINANT CULTURE AND IDEAS OF THE PERIOD. ANYWAY EACH WITCH OR MAGICAL WOMAN FROM MYTHOLOGY SHOWS BOTH THE ASPECTS.
THE INTERPRETATION I PREFER IS THE ONE OF THE ANCIENT WISE WOMAN, HERBALIST, HEALER, SHAMAN, INTUITIVE, THE ONE IN CONTACT WITH NATURE, AND THE MOST ANCIENT/ PRIMITIVE THAT HAS BEEN OFTEN CANCELLED DURING HISTORY. I LIKE THE DARK SIDE OF WITCHES, BUT I LIKE A LOT THE IDEA OF GREEN WITCHES, MAYBE ALSO BECAUSE I'M VEGETARIAN AND FEEL CLOSE TO NATURE.
TALKING ABOUT VISUAL ARTS I LOVE MANY KIND OF WITCHES, ALL ANCIENT ENGRAVINGS WITH WITCHES AND DEMONS, SORCERY SUBJECTS, THE STRIGE/ STRIX/ HARPY TOO, AND OTHER ONES FROM MEDIEVAL BOOKS AND ALSO THE ONES FROM 1500-600-700 , THE ONES FROM PRERAPHAELITE PAINTINGS, GUSTAVE MOREAU (MANY MYTHOLOGICAL SUBJECTS). ALL FIGURES LOOKING HALF WOMEN AND HALF ANIMAL. ABOUT OTHER GROTESQUE AND MAGICAL SUBJECTS I LOVE THE CREATURES COMING FROM SYMBLIST PAINTINGS AS FROM BOSCH, BOEKLIN, AND ALSO GOYA TOO (HIS "WITCHES SABBATH"), REDON, LEONORA CARRINGTON AND REMEDIOS VARO.
Can you share an autumn or Halloween/Samhain memory?
AUTUMN IS MAYBE THE SEASON I MOST LOVE, SO I WOULD HAVE MANY MEMORIES OF RED AND ORANGE LEAVES, OF DRINKING WARM TEAS…I SHARE A PICTURE OF AN AUTUMNAL WOOD WALKING, A SIMPLE, ENCHANTED DAY MEMORY.
Are you a reader? What are some of your favorite books?
ITALO CALVINO, KUNDERA, BRADBURY, "ECOCIDIO" (= BEYOND THE BEEF) BY JEREMY RIFKIN, "CRISTALLI SOGNANTI" (DREAMING JEWELS) BY TEODORE STURGEON, "THE LIVING GODDESS" BY MARJA GIMBUTAS (LE DEE VIVENTI), TIZIANO TERZANI, UMBERTO ECO, BUZZATI (IL SEGRETO DEL BOSCO VECCHIO), BOOKS ABOUT RUNES AND ANCIENT SYMBOLS, "THE HEARING TRUMPET" BY LEONORA CARRINGTON, REMEDIOS VARO ART MONOGRAPHY, ILLUSTRATED BOOKS AND GRAPHIC NOVELS AS DAVE MC KEAN, SHAUN TAN…BOOKS ABOUT CRYSTALS AND STONE PROPERTIES, HERBAL HEALING, AS "LE ERBE DELLE STREGHE NEL MEDIOEVO", "ARADIA, IL VANGELO DELLE STREGHE", "HO INCONTRATO UNA STREGA". RUSSIAN FAIRYTALES, "IL GRANDE LIBRO DEI MISTERI DELLA LOMBARDIA" (THE BOOK OF LOMBARDY MYSTERIES), "MITI E LEGGENDE DALL'AMAZZONIA" (MYTH AND LEGENDA FROM AMAZZONIA). I ALSO COLLECT SOME TAROT DECKS (AND I'VE DESIGNED MY OWN TOO, SEE "TAROCCHI DI CONNESSIONE").
WHEN I WAS A CHILD I LOVED READING "THE NEVERENDING STORY" AND "IL MULINO DEI DODICI CORVI" (=KRABAT). CURRENTLY READING "IL MONDO DI SOPHIA" (SOPHIA'S WORLD), "THE METAMORPHOSYS" BY KAFKA, AND A BOOK BY EDIZIONI XII (FOR WHICH WE HAVE TO WORK ON AN ILLUSTRATION).
Do you listen to music while you work on your art? If so, what?
YES, VERY MUCH, OVERALL WHEN WE DO OUR STUDIO ILLUSTRATION AND DESIGN COMMISSIONED WORKS, BUT ALSO WHEN I WORK ON MY PERSONAL PROJECTS.
CALLISTO, JESU, AGALLOCH, ISIS, CULT OF LUNA, RED SPARROWES NEUROSIS, NOVEMBERS DOOM, MY DYING BRIDE , DOLORIAN, CLAN ZU, RADIOHEAD, COLDPLAY, TENHI, WOBURN HOUSE, OCTOBER TIDE, TORI AMOS, PJ HARVEY, ROSE KEMP, UNA NOTTE SUL MONTE CALVO (MUSORGSKIJ), PROMETHEON, ASOFY, SLEEPING VILLAGE (THESE TWO ARE MY FIANCE'S PROJECTS),. LATELY WE OFTEN LISTEN TO DORNENREICH.
What are some of your favorite witches in history, movies or books?
FROM HISTORY AND FILMS: AGORA (ABOUT HYPATIA, GREAT FIGURE AND MOVIE), THE TRIAL OF JEAN D'ARC, BUT ALSO OTHER GREAT MOVIES WHICH ARE AMONG "FANTASY" AND HISTORY EVENTS AND FEATURES STRONG WOMEN, AS "PAN'S LABYRINTH", THAT IS VISUALLY VERY INSPIRING TOO.
FILMS INSPIRED BY FOLKLORE AND DARK FAIRYTALES: "LADY IN THE WATER" (SHE WAS MORE A MAGICAL CREATURES CLOSE TO A MARMAID, BUT I ENJOYED THE CHARACTER AND THE MOVIE A LOT), "THE DARK CRYSTAL" (THE SHAMAN/ WITCH WOMAN WAS A VERY NICE CHARACTER AND I LOVE THE MOVIE), "THE WITCHES" MOVIE AND BOOK BY ROAL DAHL (AMUSING), "THE BROTHERS GRIMM" BY TERRY GILLIAM (I LIKE THE MOVIE A LOT, BUT NOT MUCH THE FIGURE OF THE WITCH ITSELF), SLEEPY HOLLOW, "PRACTICAL MAGIC" WAS NICE TOO.
I'M FASCINATED BY WITCHES FROM FOLKLORE AND FAIRY TALES AS BABA JAGADA AND FIGURES AS HECATE AND DIANA TOO.
I RECENTLY READ A NICE BOOK TITLED "STREGHE" WITH A PAINTING BY FUSSLI ON THE COVER, AND IT FEATURES CIRCE, MEDEA, "LA SIGNORA DEL GIOCO" (WHICH IS DIANA), JEAN D'ARC, MELUSEENA, CELESTINA, LILITH. I ALSO REMEMBER THE CHARACTER OF MORTICIA, WHEN A I WAS A CHILD I LOVED TO WATCH "THE ADAMS FAMILY", AND I ALSO LIKE THE COMBINATION OF DARK+HUMOR.
I LIKE THE PRIMITIVE GODDESSES A LOT, AS THE MINOAN SNAKE GODDESS, OR THE SLEEPING/DREAMING ONE.
Thank you for joining us at The Witch's Tea. Can you share with us a thought or memory about tea?
I LOVE TEA, I often drink GREEN TEA, and my favorite is WHITE TEA AND also HERBAL ONES.
LAST SUMMER IN WE FOUND LJUBLJANA A TEA-ROOM WITH A LONG LIST OF TEAS (I TRIED A JAPANESE TEA AND MY FIANCE A "MATCHA"), THEY WERE DELICIOUS…. AND WE ALSO FOUND A LOCAL FOLK MUSEUM FEATURING A GREAT WITCHE'S HERBARY.
ANOTHER NICE FIND WAS A TEASHOP a friend showed us IN BOLOGNA, CALLED "STREGA TE".
What are you currently working on in your studio?
WITH our ILLUSTRATION STUDIO (DIRAMAZIONI- we are two) WE ARE CURRENTLY WORKING ON COVERS AND INTERIOR ILLUSTRATIONS FOR BOOKS (FOR FANTASY, AND DARK WEIRD LITERATURE).
ALSO SEE OUR SHOP (ILLUSTRATION AND PHOTOGRAPHY) www.etsy.com/shop/diramazioni
INSTEAD ABOUT VOCISCONNESSE PERSONAL PROJECT I HAVE AN OWL NECKLACE IN PROGRESS AND A CAT SOLID PERFUME WILL BE SOON ADDED TO MY SHOP (THE BOX IS AN HANDSCULPTED CAT CONTAINING HANDMADE SOLID PERFUME MADE WITH BEEWAX AND ESSENTIAL OILS). www.etsy.com/shop/vocisconnesse
I ALSO WOULD LIKE TO DO MORE ILLUSTRATIONS AND ARTWORKS TO SELL ON VOCISCONNESSE SHOP AS I HAVE THE TIME, AND ADDING MORE PHOTOGRAPHY AND ARTWORKS ON DIRAMAZIONI SHOP.
Tell us about your different forms of media. You paint, craft jewelry and do photography...
I LIKE TO MIX THEM TOGETHER, AND EXPERIMENT WITH MEDIA AND FIELDS. I'M PRIMARLY AN ILLUSTRATOR WORKING TOGETHER WITH MY PARTNER, WE LIKE TO COMBINE PAINTING AND DRAWING WITH DIGITAL PHOTOGRAPHY AND COMPUTER. ABOUT MY PERSONAL PROJECTS AND THE CREATIONS I SELL IN MY SHOP, I USE TO PRINT SOME OF MY ORIGINAL ARTWORKS AND MIX THEM WITH OTHER MATERIALS, AS GEMSTONES, BEADS, VINTAGE FINDS…I CAN COMBINE ALL THE THINGS I LIKE! I ALSO LIKE A LOT MODELLING CLAY THAT GIVES TO ME THE OPPORTUNITY TO CREATE LITTLE SCULPTURES/ 3D PAINTINGS and I ALSO USE IT FOR JEWELRY.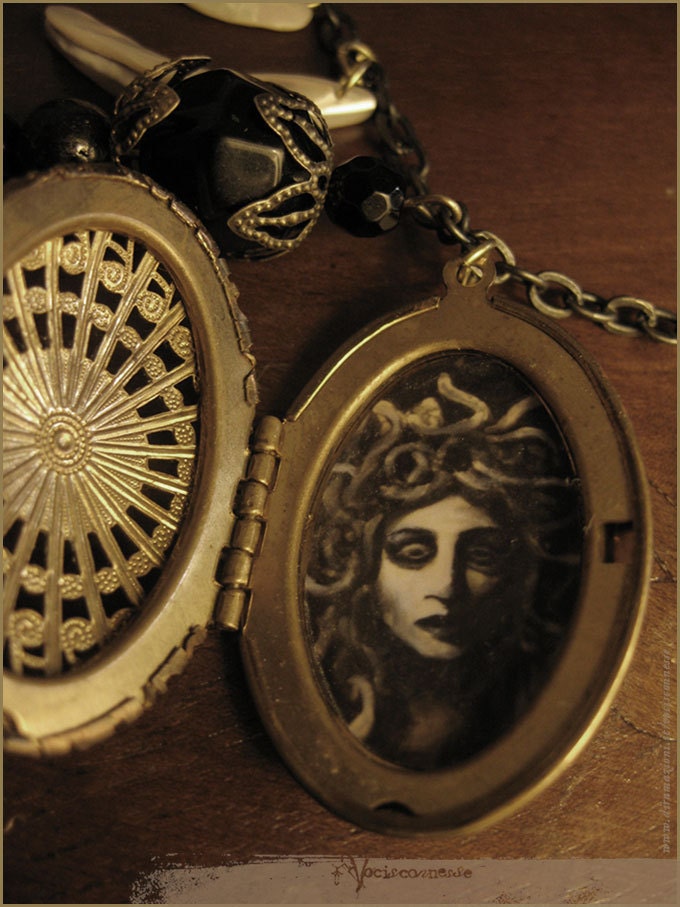 Orange Witch (giveaway)
What is one thing you want your viewers to get from your art?
I DON'T EXACTLY KNOW, BUT I LIKE TO GIVE AN EXPRESSION TO THE THINGS I CREATE, OR CAPTURING EXPRESSIONS AND THEN REPURPOSING THEM IN MY CREATIONS. SOMEONE TOLD ME THAT MY CREATIONS LOOK LIKE THEY ARE ALIVE AND IT WAS REALLY A GREAT COMPLIMENT TO ME!
I ALSO HOPE TO SHARE SOME MAGIC AND THE THINGS I LIKE, AND I'M GLAD WHEN THIS MAKES THEM HAPPY.
Thank you Jessica from Vocisconnesse! What a wonderful visit.
Now for the generous giveaway!
One lucky winner will win these lovely earrings
A small print of the Orange Witch featured in the interview.