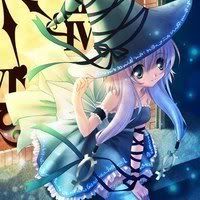 Welcome back for another Follow Friday!
Don't forget-there are still a couple of days left to enter the 20+ giveaways from the Practical Magic Blog Party!
Music, Etsy artists, books, author interviews and a great recipe!
Join us for our Halloween events next month!
Subscribe to email posts so you don't miss a thing. Lots of great things planned for the coming months...music, giveaways and lots of witchy fun!
Q. What book that hasn't been turned into a movie (yet) would you most like to see make it to the big screen, and who would you like cast as your favorite character?
I loved this book from page one. It needs to be a movie. I won't go as far as to say who should play in the roles, but I can tell you the amazing Eban Schletter should do the soundtrack. His work with on The Cabinet of Dr. Caligari was cinematic and kept you right in the thick of the suspense.




http://crazy-for-books.com/2011/09/book-blogger-hop-930-103.html
"In honor of Banned Books Week, what is your favorite "banned or frequently challenged book?"
Challenged at the Culpeper County, Va. public
schools (2010) by a parent requesting that her
daughter not be required to read the book aloud.
Initially, it was reported that officials decided to
stop assigning a version of Anne Frank's diary,
one of the most enduring symbols of the atrocities
of the Nazi regime, due to the complaint that the
book includes sexual material and homosexual
themes. The director of instruction announced
the edition published on the fiftieth anniversary
of Frank's death in a concentration camp will not
be used in the future despite the fact the school
system did not follow its own policy for handling
complaints. The remarks set off a hailstorm of
criticism online and brought international attention
to the 7,600-student school system in rural Virginia.
The superintendent said, however, that the book
will remain a part of English classes, although it
may be taught at a different grade level.
Source: Mar. 2010, pp. 57−58; May 2010, p. 107.
I have never agreed with censorship. There are life lessons and just outright history lessons in this book that should not be taken from the shelves. Ever. Anne lived through some horrible things and we need to remember that so it never happens again.
To check out a complete list of banned books for 2011, check out:
Thanks for stopping by...don't forget to check out the giveaways at the Practical Magic Party. They end on October 1st.