Tea is about time with friends, family and recipes that make us remember fond times. Join me as a few friends share some thoughts of tea, recipes, spells for prosperity and memories...
This picture was taken in the downstairs family room. We have a large old-fashioned stone fireplace down there and I've decorated the hearth with many of my grandmother's things. The silver aluminum coffeepot is Grandma's, the vintage

tea

cups and saucers I picked up at an antique shop here in Fremont.
Green Tea Magick
When monetary issues are foremost in our thoughts and we're wondering what to do, I make a cup of tea and sit down to the kitchen table to contemplate the possibilities and come up with new strategy. However, just as I take mundane actions to work on financial issues, I also get the ball rolling, magickally speaking, with my cup of tea.
I use my favorite mug and a bag of plain green tea purchased at the local grocery store, and to this tea I add the following ingredients:
A pinch of mint…this is the number one herb for money spells. I grow my own, and when my husband puts on a pot of water for morning tea, he steps right outside the kitchen door to snatch a handful of soft green leaves.
A pinch of nutmeg…just a small pinch, mind you. Nutmeg works wonderfully in spells promoting wealth, as well as in spells of love and fidelity.
Add to the ingredients a pinch of thyme and marjoram.
Top this off with sugar to taste. Sugar is one of the strongest drawing agents in our magickal cupboard and can be used in spells to draw most anything to you. Powdered sugar is also known in the magickal world as 'Drawing Powder', and is used not only in food, but in candle magicks, oils, and potions.
Tea time means not only the tea, but a little bit of something tasty to go with it, usually along the lines of cookies, biscuits, breads, or muffins.
The following recipe is from my grandmother's kitchen. It's her basic tea muffin recipe, and it can be enjoyed just as is, or it can be used as a base for all different kinds of muffins by adding a slew of other ingredients, including spices, fruits, and nuts.
Grandma Raine's Tea Muffins
Sift the dry ingredients together; adding the egg, milk, and melted shortening. Blend just enough to moisten the batter and then spoon into an oil sprayed muffin pan.
Bake at 350-375 degrees for about 20 minutes, depending upon how hot your oven runs.
I'll be using this recipe for muffins this month, adding to it brown sugar, pumpkin (from canned pumpkin pie filling), nutmeg, cinnamon, cloves, allspice, and raisins. And these ingredients will not be measured; I'm a 'pinch of this', 'spoonful of that' type cook.
Somehow you just magickally know when you get it right.
I lost my father about 5 years ago. We were very close and even though we were over forty years apart in age I always felt we had a similar spirit. I miss him terribly but I do find joy when I see little pieces of him shine through in my children.

So on Halloween after the kids have been tucked into bed, the trick or treaters have all gone home and the veil between the worlds thins...I spend a little extra time with my dad. I always feel that he is near...watching out for me and my family....but Samhain is when I feel he can truly hear me.

I make myself a cup of hot chai, stroll out into the backyard under the stars, light a few candles and tell my Dad all about the life I am living. I tell him how his grandson is growing so tall and how great he has gotten at hockey, how much his granddaughter loves to sing and dance and just how crazy life can get. Then I sit and drink my

tea

, listen to the sounds of nature, inhale the wonderful autumn smells and just be. I find so much comfort in this little ritual....not only does it help me reconnect with the earth it also helps me find peace with the fact that we lost him way too soon.
Elise from Dark Faery Creations
Don't miss the great giveaway from Elise's shop on the Tea Party extras!
A lovely tea time memory was many years ago when my daughter was very young. We would have tea in her tiny china tea set and little crackers spread with cream cheese. My daughter is on her way home from Kandahar. She is in the U S Air force.
Don't miss the lovely giveaway provided by Pamelia Designs in the additional Tea Party Posts and all of the surrounding events in the 10 Days of Halloween posts.
And now for a lovely Chai Tea Recipe from
Hope Photo Art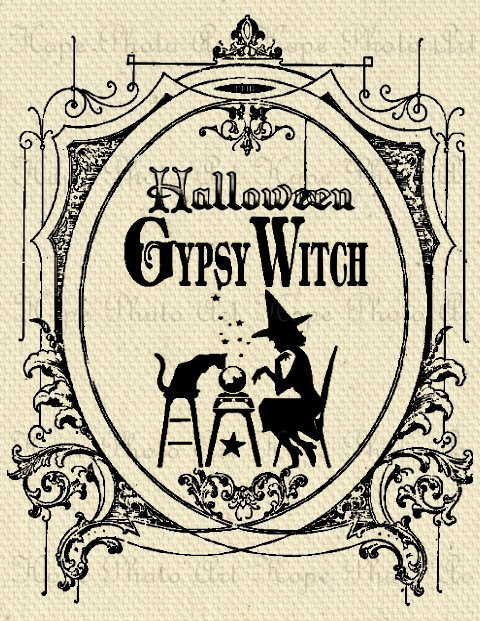 /halloween-gypsy-witch
Serves – 2
Ingredients:
Milk – 1 cup
Water – 1 cup
Ginger – 1 tsp, grated or 1/4 tsp ginger powder
Cardamom – 2 whole, pounded or 1/2 tsp cardamom powder
Cinnamon - 1 stick
Sugar – to taste
Tea – 2 tsp or two tea bags
Method:
1. In a small pot, add water and grated ginger. Allow it to come to a boil.
2. Add in milk and again allow it to come to a boil, stirring in between.
3. Stir in tea leaves and let it come to a rolling boil.
4. Turn off stove, add cardamom powder, cover and allow tea to steep for 3-4 minutes.
5. Add sugar to taste and cinnamon stick to stir.
Notes: If you prefer a stronger (kadak) tea, allow it to boil a little longer.
Ready for a super cool giveaway?
Check out the 10 Days of Halloween events
and a chance to win 3 designs from Hope's shop.
Thank you for joining me on day two of
the Witches Tea Party.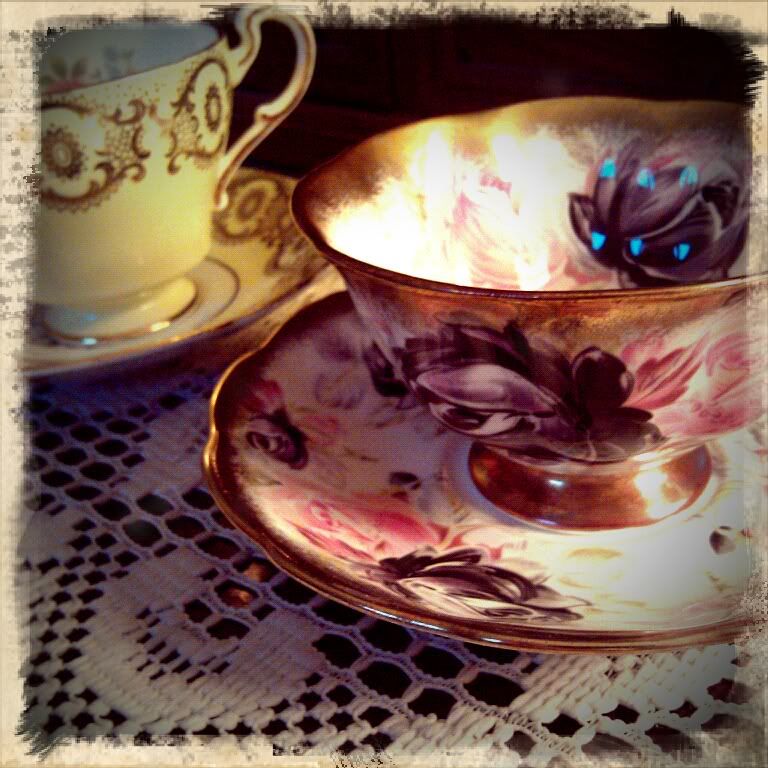 Thoughts of family, friends and a good cup of tea are
always welcome.
Make sure you check out all the posts starting with
October 21st and visit me again through October 31st for all
the different giveaways.
Many thanks to Anna of Frosted Petunias for making
this Witches Tea Party happen for us all.