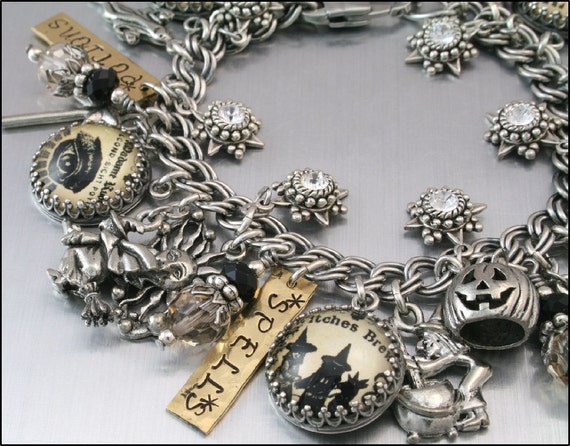 From the Etsy Shop:
In my charm jewelry shop you will find a large selection of silver charm bracelets, Halloween charm bracelets, Halloween jewelry, charm necklaces, drop earrings and Unitarian Church jewelry, as well as Wiccan jewelry, inspirational jewelry, custom jewelry designs and Halloween jewelry. I am constantly creating new charm jewelry, and have lots of new artistans jewelry every month.
This colorful Moonbeams Magic Potion Shoppe charm bracelet has beautiful Halloween themed charms with topaz and jet black crystals.
This wonderful Moonbeams Magic Potion Shoppe, Halloween Charm Bracelet includes:
* 5 vintage images with words of Witches Brew, Madame Ruby's second sight potion, Uncle Spookys Skeleton Polish, Moonbeam Magic Wands, abd Giant Pumpkin Juice under sparkling glass cabochons.
* 12 pewter and silver plated charms manufactured in the United States, of palm, dancing skeleton, broom, fortune teller, magical star, pumpkin, witch at cauldron, moonbeam, flying witch, ghost, magic wand, cauldron.
* 3 Hand Stamped Gold colored tags with "Potions", "Magic", "Spells".
* 6 Beautiful Light Topaz Swarvoski Elements topped with 6 Swarvoski Jet Black Faceted Cut Elements.
* 6 Sparkling Crystal Swarvoski Elements in vintage filigree settings
* Your charm bracelet chain is a beautiful, durable, stainless steel and is adjustable from 7" to 8-1/2", if you need it smaller/larger, please let me know. Your bracelet comes with a stainless steel lobster claw adjustable clasp, however, I do offer a toggle clasp. If you want the toggle clasp, please let me know in the comments field when you checkout, also for the toggle clasp I will need your wrist size.
* Beautiful Leatherette Trifold Gift Box for storing your charm bracelet.
* This light weight charm bracelet weighs less than 3 ounces
* Your charm bracelet is original handcrafted jewelry.
Check out other wonderful pieces of beautiful jewelry at: Blackberry Designs Etsy shop! This one is now on my drool worthy list!