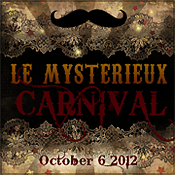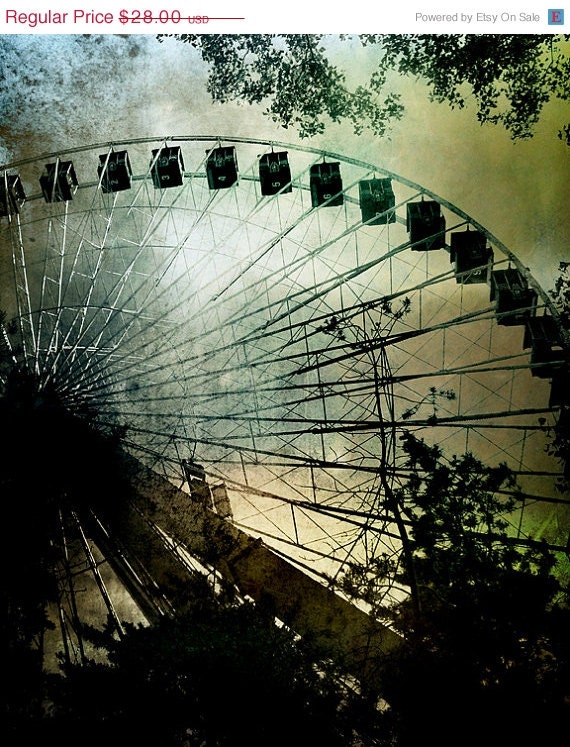 The twilight hours are upon us and in the distance you can see the shadow of a ferris wheel against the graying autumn sky. Come one, come all to the delights of the night carnival and all of the secrets and spells it waits to share...
Join us in meeting the wonderful author Kiki Howell as we visit with her and talk about witchery and erotic mayhem.
1. How did you first get interested in magic/magick and witches?
Not sure I can put my finger on it, but I did love watching Bewitched as a kid ;) Anything other-worldly has always captured my attention since I can remember. Guess I never got through the fairy tale phase ;)
2. What are some of your favorite authors that write witchy style books?
Annette Blair, Heather Graham, Melissa de la Cruz, Sarah Addison Allen, Teresa Medeiros, some Nora Roberts series, etc Long list!
3. If you could pick one power as a witch, would you want to heal, hex or something else?
Definitely heal!!!! I can already name quite a few I would too.
4. Sex magick is a sure fire way to spice up a spell or a story for that matter. What inspired you to write this one?
You know, sex magick just kind of finds its way into about 90% of the stories I write. I guess because if you are going to do a spell, might as well power it right *winks* and well, I write erotic paranormal romance - just kinda fits, don't you think? LOL
5. Do you write to music?
If I do it is only to Hemi-Sync for concentration and creativity. I sometimes listen to a song before I write, one that speaks to me, or gets me in the mood for the story I'm writing, but that doesn't happen often. For my first series, At War in the Willows, I listened to If I Close My Eyes Forever by Lita Ford. But again, that is the exception rather than the rule. I did once write an entire story around all the songs in one CD, but the songs were written by my husband. FUN!
6. What are some of your hobbies when you are not writing?
Reading, of course. But, I also love knitting. I like to kick back and watch TV as well - movies and a few series like Supernatural, again, of course :)
7. Bewitched vs. Harry Potter?
Bewitched! As I already mentioned, I watched all the time. And while I can appreciate the story and the big box office production of Harry Potter, it didn't keep my attention. Guess I'm more True Blood as a TV series and Practical Magic as a fav movie :)
8. Plotter or panster?
Plotter mostly, but every once in awhile, I like to try the panster thing. It's worked for me a few times when my inspiration was more vague.
9. What are you currently working on right now?
Ah, sadly nothing. Life is getting int he way a bit right now, and I have so many releases coming out this fall that all my time has been committed to promo. But, I have a novel or two that are just stewing in my brain, waiting for me to get to them, not so patiently.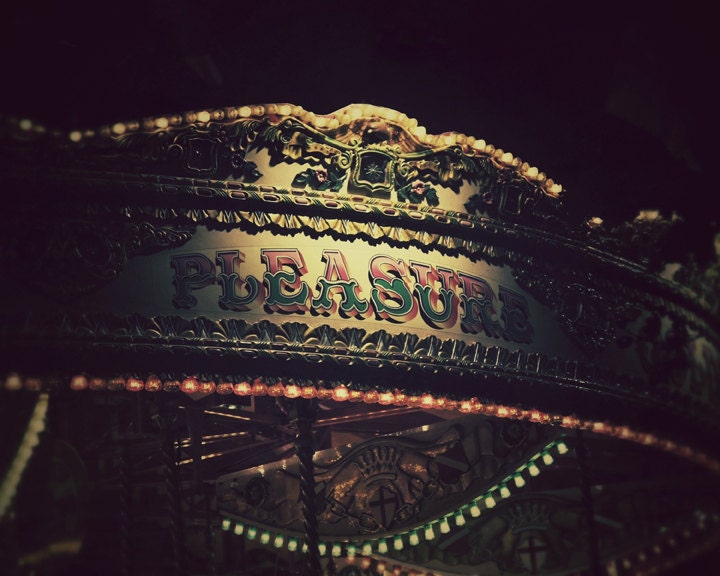 Carnival Spells by Kiki Howell
"You set?" Miriam whispered.
The lights of red and yellow on the spinning Ferris Wheel caught her attention. Looking up, the trees in front of her, with what looked like black leaves in the moonless night, rustled in the wind, made the lights look like they were moving frantically. Her heart beat the same. They had so much to do here tonight, and no one could get hurt. At a carnival, at night, she knew this would be tricky.
Though the witches with her had given their confirmations of being ready, still Miriam looked over the circle. They had set up one line of trees deep outside the fence, on the forested side of the clearing that the carnival had been erected with the evilest of intentions in.
"Seven purple candles, four white candles and one black candle to bind the forces that may try to attack us on our journey," she checked off the list in her mind.
In the cauldron, there was a mix of lavender, vervain, thistles, dragon's blood, clove, apple seeds, verbena and cinnamon. She had made the mixture herself, tediously measuring out each ingredient. A bell and athame sat in wait on a black silk cloth in the middle of the circle. The velvet reflected the stars. She took a moment to find beauty in the image, to center herself as much as she could.
"We are good. Everything is in place, Miriam. Don't worry," one of the coven tried to console her.
"I know. We have very few minutes until the carnival ends for the night…" Miriam left off as her stomach clenched. "In minutes they will prey upon the stragglers who had a great time tonight and stayed till close. A friend told me that they pack up and move on before anyone can catch them."
" You would think the towns that they have done this in would have caught on by now," another witch in her coven huffed.
In the dark, with the heavy breeze, the trees, the lights from the carnival, the noise of the people, rides, and the smells of the greasy foods Miriam's senses were overwhelmed.
"They're moving too fast, too far, for the stories to catch up, for people to catch on. Plus, they change names and appearances in every town. Pretty much, they come and go with vampire speed, under the dark of night. It could have been forever before the world caught on. It's good my friend's coven used a tracking spell and knew someone in the area they found them in. I just hate the possible danger in the spell we are doing. We harm ye none."
"We hope to harm ye none. Every precaution has been taken. They feed off humans, kill. That is why we are doing this," stated another witch. "No one will get hurt."
Miriam's coven stood in a semi-circle around her clothed in dark robes with their hair flying around their faces. They appeared frightening in this moment, in these surroundings, but she felt them, their warmth, and their kind spirits in juxtaposition to their current appearances.
Hell, everything looked scary tonight. She turned to the carnival again. It was hard to tell how many humans remained. Vampires on the other hand were everywhere in sick costumes with drawn plastic clown faces air-brushed with blacks and reds. The carnival had a dark feel, appealed to a younger crowd hooked on horror films she guessed. Even the games were a bit gruesome themed. No fish bowls here but instead breaking balloons that flowed some fake blood when hit with a hatchet.
Nothing here appealed to her, but it did to the rough looking crowd. Their screeches born of fear-induced delight had grated on her raw nerves all night. Even the music being pumped out of speakers from the middle tent was haunting, kind of the stuff scary movies were made of.
"Have you ever met one? A vampire, I mean."
"I know. It's just I feel bad for them. They are just creatures of chance. No one asks to be turned into a blood-sucking monster, do they?"
"You wish to reform them?"
"If I could find the means, yes. We can wreck the carnival, but they must still feed."
"They have animals. They can't just lure victims to their deaths with the promise of some sick form of fun."
"I know. I just feel for their plight…I-"
The first scream went up into the night, formed a heavy ominous cloud above her head. In her veins, the blood pumped like a storm. Her coven hurried to their places around the circle.
Miriam heard her voice, as if it wasn't hers, chant, "Herbs and seeds so fine, grant me your strength, make it mine, so I can be strong as the tallest tree, as I will, so mote it be."
The coven joined in, repeating over and over, "Strength of all, strength of night, grant me powers beyond my own might. We are the ones, give us power. This is the time, this is the hour."


Each witch picked up a feather. Miriam felt the life force of hers strengthen her resolve. She stood straighter, rolled her shoulders back. With a deep breath, she envisioned the Ferris Wheel break off its arm.
The screeching of heavy metal bending and breaking filled the night, brought screams from the people. In her mind, she envisioned the people run. It was their only point to levitating the Ferris Wheel, just enough drama to make the people scurry home to safety.

They would chant until the last car drove away then flee under protection of an invisibility spell to save their own hides.
Then she felt the cold breath against her neck. Someone in her coven screamed…
Thank you Kiki for that wonderful original piece just for us at On the Broomstick! Happy Carnival everyone!
Want to win a copy of Spelled or The Healing Spell and your very own witch's hat and broom book thong? Enter the Rafflecopter entry form at the end of the post.
Ever since she was young, Kiki Howell has loved to listen to a well-woven tale with real characters, inspired plots, and delightful resolutions. Kiki could spend hours lost in a book, and soon she knew that creating lives, loves, and losses with just words had to be the greatest thing that she could do. To that end, she pursued her study of literature and writing, earning a bachelor's degree in English from Kent State University.
"After a long break having my boys, I finally just had to write again. And, as soon as I gave the stories the space, they entered it. It's both awesome and humbling to find the words in my mind become characters on a page and create their lives."
Kiki is a multi-published author residing in Northeast Ohio with her incredibly handsome and talented, singer/songwriter husband and two children.
http://www.kikihowell.com
http://www.goodreads.com/author/show/2465201.Kiki_Howell
| | | | |
| --- | --- | --- | --- |
| | ~where love is a mystical thing~ | | |
a Rafflecopter giveaway