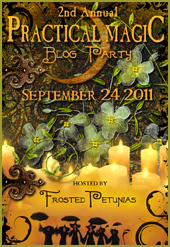 Hold on to your broomsticks ladies!
It's put the lime in the coconut time!
I am very excited to report that On the Broomstick will be participating in the Practical Magic Blog Party this year! In celebration of the book, movie and all things Owens, we will break out our broomsticks and rock the house on September 24th. Check out the link to Frosted Petunias and see the exciting group of bloggers that will be participating. Last year looked so amazing that I had to get the broomstick on the Practical Magic train.
So get ready and lets think of some witchy ways to celebrate this amazing book, movie and soundtrack. Who wouldn't love an excuse to have a bit of a party, right? Limes and coconuts!