Practical Magic Blog Party
I write this dreaming of cats, black umbrellas and fearless women who the world calls witches. The first time I saw this movie, I was captivated and felt like this family was somehow alive in my heart. Now, as I am reading this amazing book by Alice Hoffman in anticipation of this blog party, I take a moment to pause and throw my arms up, out and into the air. Thanking the universe for new the new friends I will meet this year and the old ones that remain a constant. This movie has been one of those things in my life. Since it came out, whenever I feel a little blue, I pop it in the DVD player and have some quality time with the Owens women.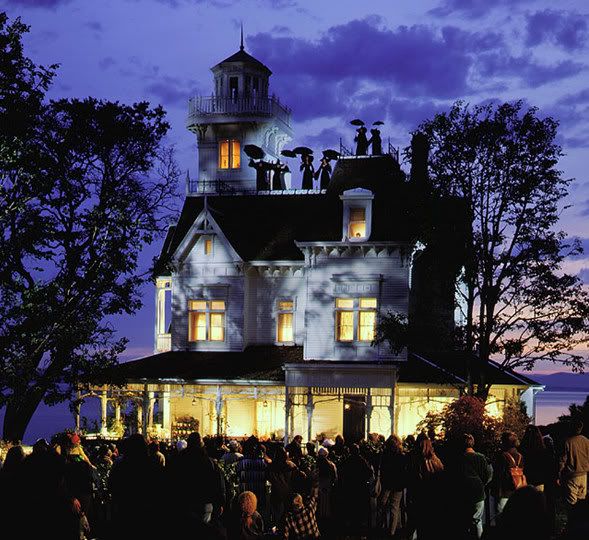 Upon first hearing of the party, I panicked. What would I make? What did I have time to do? So I went to look around Etsy and found some wonderful artists who embody the feeling of this party. Add in some Owens women and you have yourself a pretty witchy good time! So relax, put the lime in the coconut and take a stroll with some amazing artists that each have a bit of magic...I will make the Etsy posts into two events. Be sure to check out the Practical Magic Party Favor Posts to win the latest Alice Hoffman book, check out some great music by Artemis, longingly admire a pumpkin cake to die for, a new Goddess Tarot Android App, some lovely journals, hang out with the amazing Judika Illes and meet an interesting witch who likes to cook with children...
Some marvelous artists and some wicked good giveaways!
Sassy big-eyed girls painted on small square salvaged wood. Own a piece of modern folk art. The stories they share are tongue-in-cheeky, with a touch of truth that might resemble someone you know.
http://www.etsy.com/shop/woodwings?ref=pr_shop
#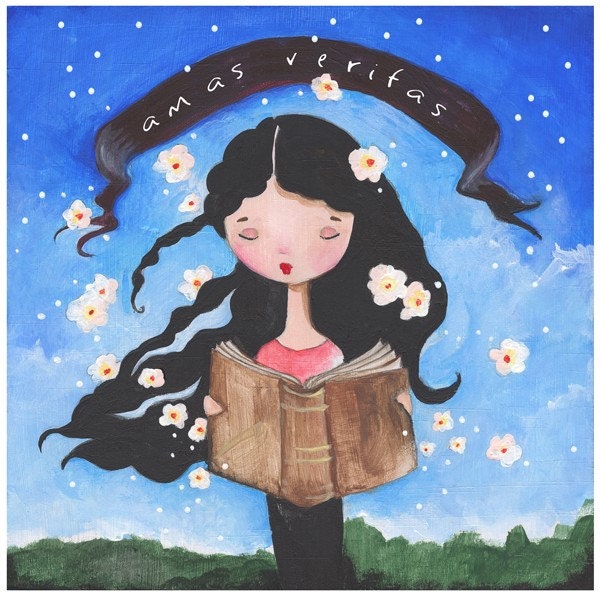 "The reason you're here and you don't know why is that I sent for you."
Sally Owens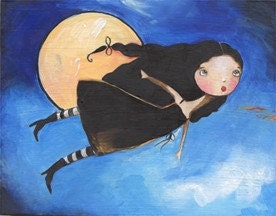 "Sometimes I feel like there's a hole inside of me, an emptiness that at times seems to burn. I think if you lifted my heart to your ear, you could probably hear the ocean. I have this dream of being whole. Of not going to sleep each night, wanting. But still sometimes, when the wind is warm or the crickets sing... I dream of a love that even time will lie down and be still for. I just want someone to love me. I don't want to believe it but, there is no man, Gilly. Only that moon." ~Sally Owens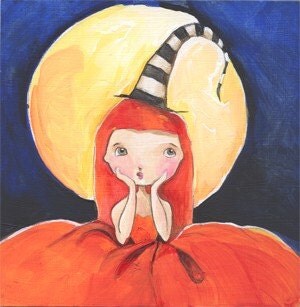 Tis the witching hour of night,
Or bed is the moon and bright,
And the stars they glisten, glisten,
Seeming with bright eyes to listen
For what listen they?
~ John Keats
Giveaway Rules:
*One entry per person.
*You must love Practical Magic.
*Woodwings will be sending out the print to the winner.
*The contest is from September 23rd-October 1, 2011
*The winner will be notified by email and have one day to respond before the next winner is chosen.
*Contest is US only.


Harvest Moon Primitives has long been one of my more adored Etsy shops. The original thought behind every one of the prints just warms my heart and lets me know there is indeed magic in the world. I have my prints from the shop right in front of my computer as I type this post. Please join me in appreciation for this amazing artist.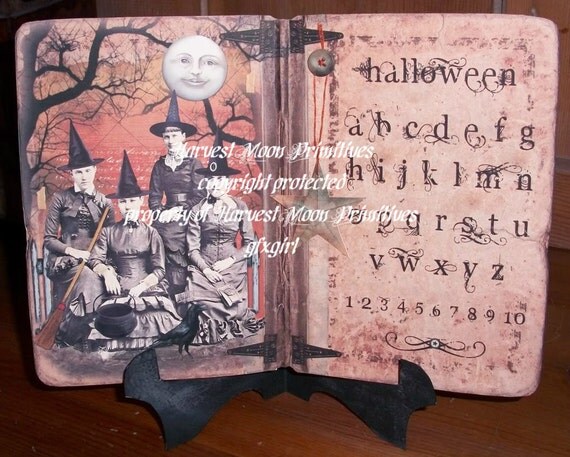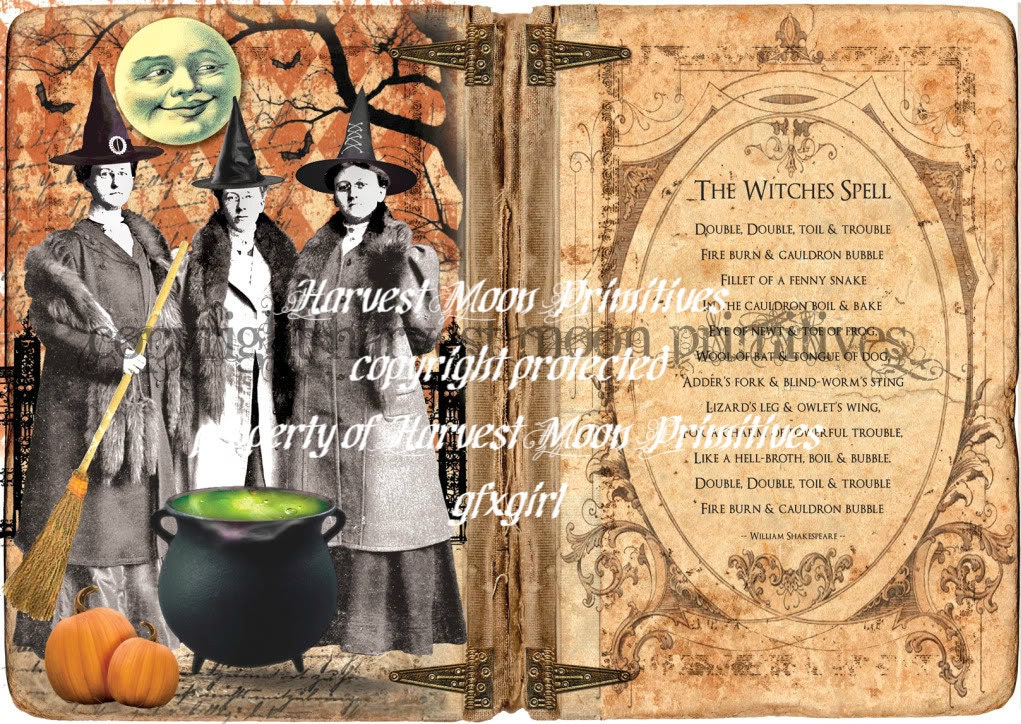 Giveaway!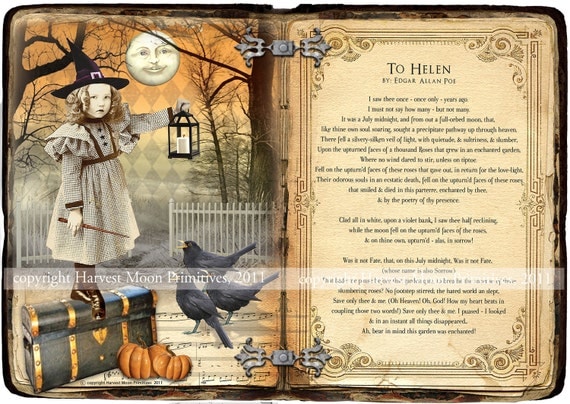 Primitive Halloween Cabinet Card & Decorative Stand
MOONLIGHT SONATA
Featuring the third collectible of my "Tiger Lily Series"
Tiger Lily, a delightfully spooky little witch...in her moonlit, enchanted garden.
My very own digitally created collage featuring actual turn-of-the-century photos. Printed out an extra heavy card stock in high resolution. Both sides feature extraordinary detail…
especially the old book that I have chosen for the background and the lovely silver hinges!
These cards feature shades of sepia, black and burnt orange with a fantastic aged finish that makes them difficult to tell from the real thing!
Each card measures 9 5/8" wide x 7" tall.
The stand has a rustic black finish and while it is a simple detail, it is certainly one that adds a special magical touch to the finished item!
The decorative stand measures 7 ½" wide by 6" tall. Scored and folded.
You will want to give this piece a special place in your Primitive Halloween display!
I feel it is truly a unique work of art.
Each work of art is handcrafted by me in a smoke and pet free
environment. A great deal of time is given to detail on these pieces so that the quality is top notch and
they are able to be enjoyed for years to come!
Giveaway Rules:
*One entry per person.
*Winner will be notified by email and have one day to respond before the next winner is selected.
*The prize will be "Moonlight Sonata" and will be mailed by Harvest Moon Primitives.
*The giveaway will be from September 23rd-October 1, 2011.
*US only.
If it's made out of paper -- we've got your back. All of our products are completely customizable to provide you with an unreal, one-of-a-kind work of art. Our signature style is the intricate cutwork you'll find on practically everything we offer ... these details make your final product seriously luxurious. Seriously.
http://www.etsy.com/shop/mommamink?ref=pr_shop#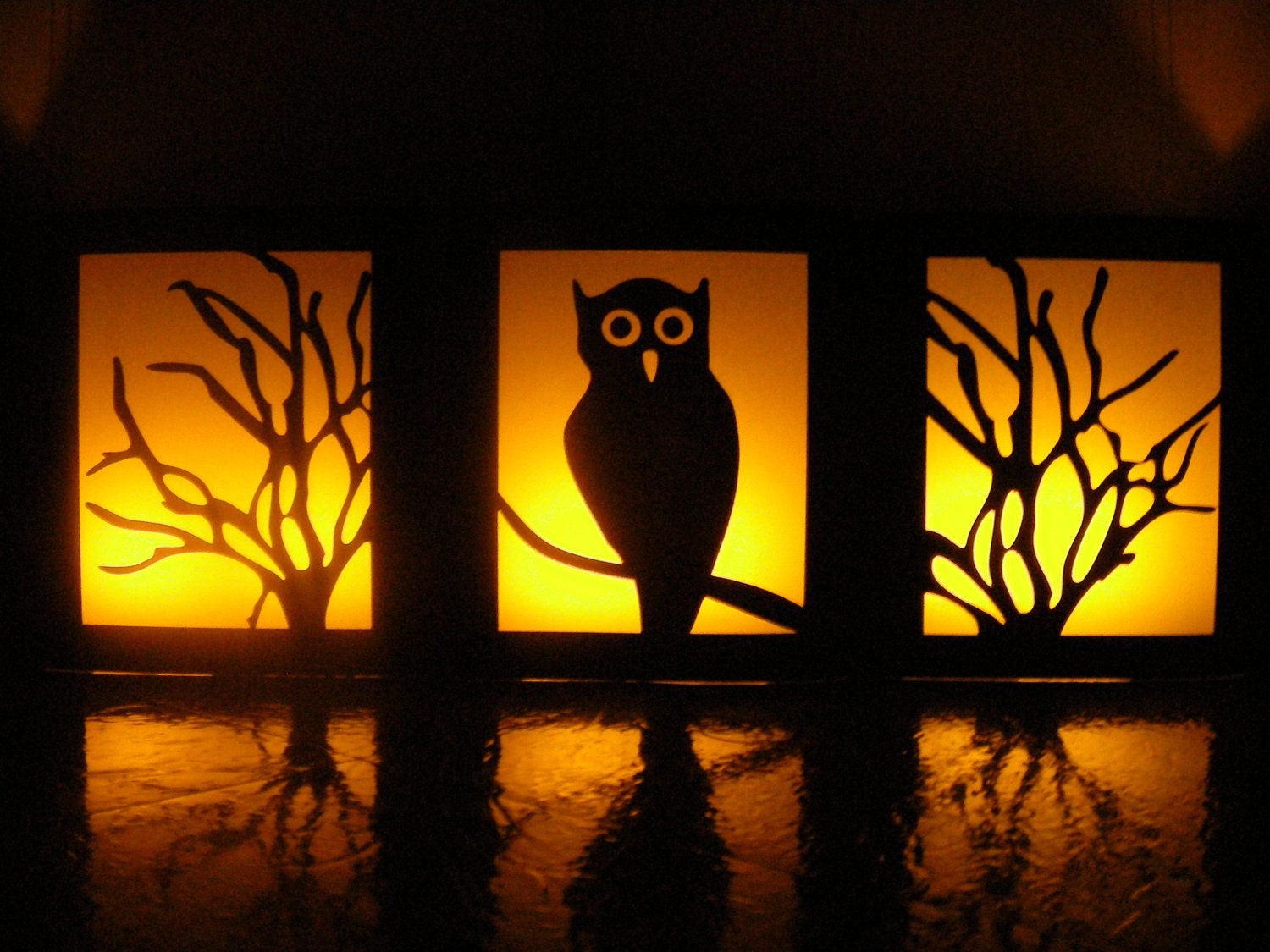 When I contacted this wonderful shop and let her know about the event she set to work immediately making a Practical Magic candle screen that is simply gorgeous! Everything in her shop is, but this is super amazing. To make it even better, Mommamink has agreed to give it to one lucky Practical Magic Blog Party winner.
Can't you just see the Owens women floating down with their black umbrellas?
Magic.
Giveaway
*One entry per person.
*Giveaway open from September 23rd to October 1, 2011.
*US only.
*Mink's Paperie will be mailing out the prize, which is the above Practical Magic inspired candle screen.
*Winner will be notified by email and have one day to respond before the next winner is chosen.
*You must fill out the form to enter the contest.
Welcome kindred souls, I am so happy you stopped by. I'm just a Mama housewitch sharing my luv and good juju with the world....take your time, absorb the energy and stay awhile!
http://www.etsy.com/shop/RitaSpiritualGoods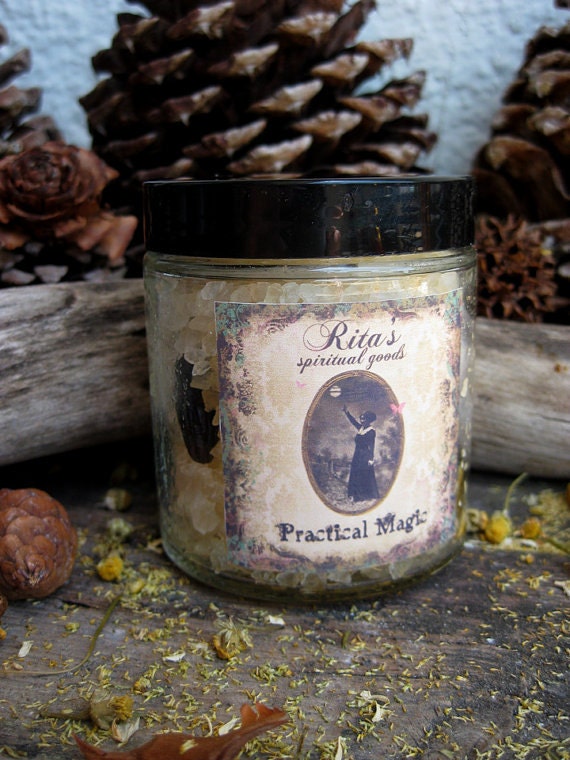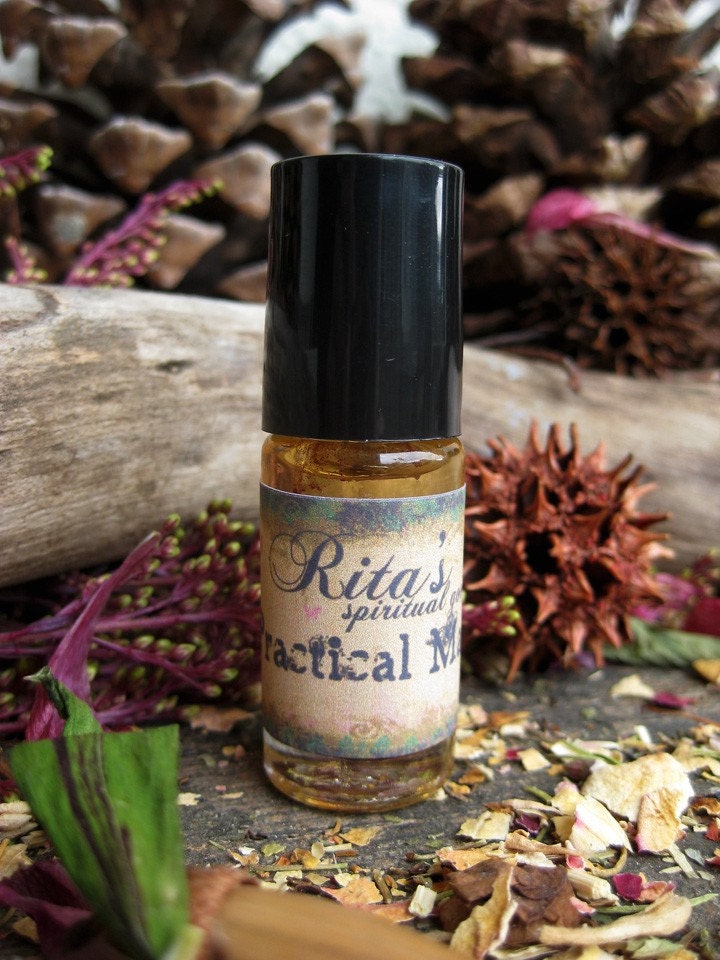 There is something so true to your soul when you get down with mother nature and create energy all on your own, by pure instinct, love and imagination. There is nothing more true to your heart than the unconditional love of a sister whether it be blood, soul, kindred or twin flame. Combining these two elements creates a sacred space in time and a place inside of you where magic is made, a practical magic.

Inspired by the "Practical Magic Blog Party" I decided to create a limited edition "Practical Magic" ritual oil for all the little witches out there to wear on a daily basis, only everyone loved it so much I have decided to keep it as a permanent part of my collection...empower yourself and embrace the witch within. The properties of this oil include: empowerment, insight, creativity, unconditional love, courage and of course magic. Hand brewed under the full moon and as always made with so much love. It comes in a kitschy plastic cauldron filled with dried flowers, the smell is divine.

Rita's Practical Magic hand brewed oil comes in an 1/8ounce roller bottle and was made under the full harvest Mabon Moon.






And now for the Giveaway!
*One winner will be chosen to receive a bottle of Practical Magic Ritual Oil.
*The prize will be sent by Rita's Spiritual Goods.
*The winner will be notified by email and have one day to respond before the next winner is selected.
*The giveaway will be from September 23rd -October 1, 2011.
*Please visit Rita and tell her what an amazing shop she has.
Many thanks for visiting here On the Broomstick for this first part in The Practical Magic Blog Party. Please check out the second post with even more Etsy artists and fun. Don't miss out on the Practical Magic Party Favors too, including:
*Android Goddess Tarot App and Doomed Queens Card Deck by the amazing Kris Waldherr.
*Journals and kit from Peter Pauper Press
*Interview and giveaway of Alice Hoffman's newest book The Dovekeepers.
*Interview and giveaway with Judika Illes The Weiser Field Guide to Witches.
*Interview with Artemis and Giveaway CD. (This is super excellent!)
*Interview and giveaway with Keith McGowan, author of The Witch's Guide to Cooking With Children.
* A recipe for Pumpkin Crepe Cake by The Konstant Kraver.
Thank you for coming!