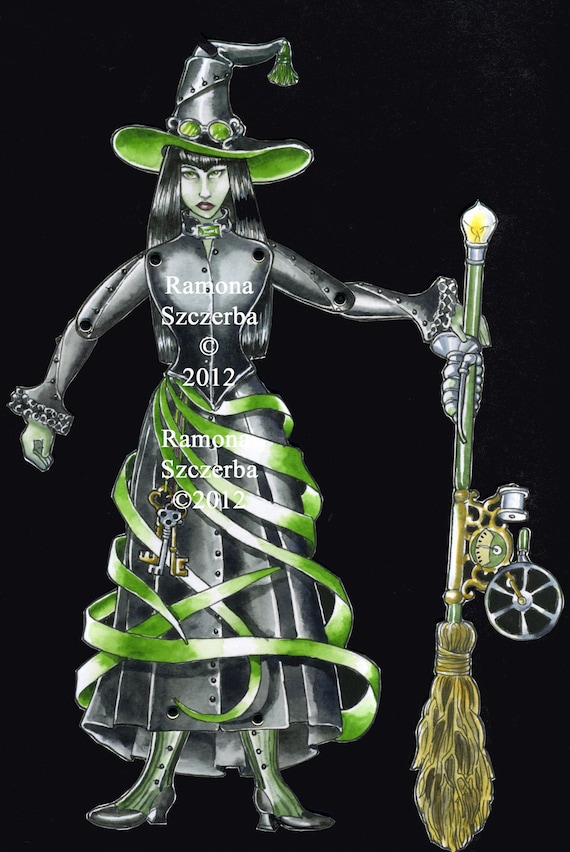 http://www.etsy.com/listing/111522321/gothic-wicked-witch-jointed-doll-digital
Newest Winona Cookie offering for crafty kids and grownups - a Wicked Witch of the West jointed jumping jack doll that you can print out, cut and assemble yourself! When assembled as instructed, her arms will move up when you pull the string at the bottom (click between 1st & 2nd pictures for preview of action - fun!). The original Wicked Witch illustration was done in ink and watercolor on hot press watercolor paper. Perfect for a Halloween project or anytime at all. When I receive your PayPal payment, I will email you a pdf file containing your Wicked Witch doll and detailed instructions for making her (usually within 24 hours).
Supplies you will need to make this doll are scissors, brads (available here on Etsy from many sellers), some heavy thread or floss, heavyweight paper or cardstock to print the doll on, and of course, a color printer. Other optional supplies are also suggested. Smaller kids may need some adult supervision and help - older kids and adults just need some patience and possibly a pair of ruby slippers. Have fun!
This will be a large pdf (6.9 MB), so be sure you have some room in your mailbox to receive it. No shipping cost and this item can be emailed worldwide!
Note: You can make this doll for yourself or make her for a gift, but please do not reproduce or re-sell. No reproduction rights are included in the sale of this item - all rights reserved by Ramona Szczerba © 2012.
This one looks like fun ladies!